Personal Trainer for Your Fitness
Personal Gym Trainer in Amritsar
Need an extra push? There is nothing better than having your personal trainer, mentor and cheerleader.
That's why we're here. We have certified personal trainers who specialize in Exercise, Anatomy, Physiology, Training Program Development, Exercise Applications and Fitness Assessment. And they excel at applying this knowledge to your goals, no matter your age or level of fitness.
H2H Fitness Studio instructors will also perform a variety of assessments in addition to pre-scheduled health check-ups, including posture and movement, flexibility, balance, function tasks, heart disease, fitness, muscle fitness, body composition, and Skills will be involved.
Assessments may also be included. Parameters (e.g. strength, agility, coordination, speed, and reaction) for viewing and gathering the information needed to help develop an effective exercise program and help clients achieve their goals.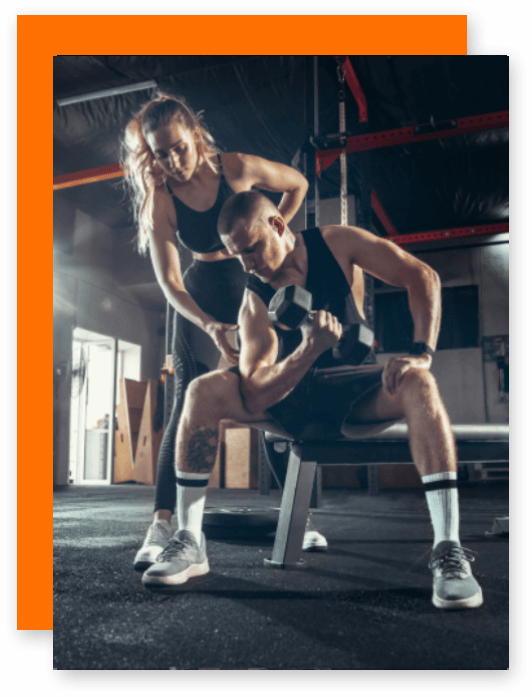 Why You Need a Personal Trainer for Fitness
Plan based on your body type
Our fitness coach will make a personalized fitness plan based on your body type. So it gives more effective and faster results. Each body is unique and reacts differently when we encourage the same exercise.
A program customized to your needs
Our gym trainer understands your needs as well as your level of fitness when customizing a fitness program. Whether you want to build muscle or lose weight, we will create a customized program for you. Second, our workout plans also have access to exercise equipment and you can dedicate a week. The "one size fits all" approach does not work to achieve results. Two-person programs with different levels of fitness and needs should always be different.
The natural body transformation
Our bodybuilding coaches transform your body through natural processes. It brings a change that sustains for a long time without any side effects. Many gym trainers mislead young people by advising weight loss and lean muscle enhancement drugs. These performance-enhancing drugs are banned substances. They damage the body which is not visible from the outside.
What You Will Get
A dedicated coach
A personal strategy
A personal diet plan
Support and motivation
The latest gym equipment
Training for all aspects of fitness
Our training is based on five components of fitness. Muscle strength, muscle endurance, heart endurance, flexibility and body composition. All these components are interconnected and are important for the development of overall well-being. For us, fitness is a bigger goal than building muscle or losing weight. When you are fit, you can do physical activities more efficiently and perform higher.
Regular review of progress
We review your progress regularly against fitness goals. As we progress, we plan our progress and representation in the fitness plan. Our personal trainers make sure you move toward your goal.
Exercise and nutritionist advice
We combine you with the personal trainer and dietitian in Amritsar. You do not need a separate personal trainer or nutritionist to lose weight or achieve your muscle goals. The personal gym trainer will make you exercise and give nutrition advice or diet plan in amritsar after consulting the best dietitians of the fitness industry.
Motivation to follow goals
We always motivate you when you are pursuing fitness goals. This is the key to success which improves your stability. We understand that sometimes you feel tired. This could be due to a busy day or some other reason such as lack of energy release from inside which motivates you to exercise. During the fitness journey, our fitness coaches will never let you feel down and will help you overcome such obstacles to continue exercising and achieve your goals.
Training programs for different age groups
We provide training programs for people of different age groups. It is beneficial for all of them for muscle gain and fat loss. Our personal trainer also includes resistance training for seniors. It is a myth that only young people should practice this. The age of the training required varies from age to age but everyone benefits from it.
Guaranteed Result
Our fitness and nutrition coaches guide you the diet plans and efforts to put on exercise so that you get guaranteed results. A lot of people go to the gym but many of them fail to reach their goal. We make sure that the hard work you put is as per your expectations, and that will deliver you the wanted results.
Affordable package
We provide you training under a world class fitness expert at an affordable price. It is worth the money and you will get the value of every coin spent. A personal training plan at the gym comes with a price that not everyone can afford. But now you have an effective option to reach your goals with the help of a personal trainer. Our fitness coaching values ​​are quite affordable in the industry and will easily fit into your budget.
Frequently Asked Questions About Personal Trainers:-
Who are the personal trainers?
A personal trainer is a person who has a certification that demonstrates that they have achieved a level of ability to create and provide safe and effective exercise programs for healthy individuals and groups or those with medical clearance to exercise. They motivate fitness freaks by setting goals, providing meaningful feedback, and being a reliable source for accountability.
What is the purpose of Personal Training?
Personal trainers evaluate a client's goals and needs as they create fitness programs. Personal trainers focus on the client's exercise technique, workout routine, goals, values, and diet plans. Individual training in men and women has been shown to improve the anxiety ratio from benefit to exercise (critical balance) and to increase confidence in choosing exercise in face of other time demands (determining self-efficacy). Personal strength during exercise is considered to result in higher strength, greater exercise intensity, and higher.
What are the benefits of a personal trainer?
There are many benefits to personal training. Contains:
Teaching you the right form: A personal trainer will guide you on how to practice correctly and safely. If you are new to the gym or new to lifting weights, it is important to get the technique right.
Keep an eye out: When you're working alone, you can't always tell if you need to adjust to your position or movement. Personal trainers monitor your form during your training and correct you if necessary.
Knowledge and Experience: PTs should keep up to date with industry trends and training methods, which will save you time from doing all the research.
Push your limits: Personal trainers are passionate and supportive, but they will challenge you and motivate you to push yourself.
Hold You Responsible: Sometimes, the toughest fight is getting in the gym. A personal trainer will hold you accountable; It's not easy to cancel a gym if you have a personal training session.
Create training programs: Personal trainers will design training programs tailored to your needs, abilities, and goals. For example, if your goal is to lose weight, your program will include specialized weight loss exercises. Your instructor will monitor and adjust your plan based on your progress.
How long is a personal training session?
How long you need PT depends on your fitness goals. We have two transformation packages, one for 6 weeks, and the other for 12 weeks, you can see more packages and fees on our membership page.
What can I expect in my first PT session?
Fitness Tests: You may find that your instructor will ask you about some exercises and body measurements to assess and record your level of fitness. Don't worry about how well you perform in them, try your best. It's about understanding your baseline, and a way to see your progress.
What to wear and what to bring: As you are training in the gym alone, be sure to dress appropriately so that you are ready for your training session. Wear breathable and lightweight clothing and a non-slip assistant trainer. Bring a towel and water bottle with you as well as the same tips that a personal trainer gives you. The last thing you want to be is uncomfortable or ill prepared.
How do I choose a personal trainer?
Some personal trainers specialize in areas of competence and expertise, such as weight loss, sports coaching, nutrition, prenatal exercise, etc. You can consider what goals you want to achieve and we will connect you with a good personal trainer who has the expertise to help you with your goals.
Do you have to pay for personal trainers at H2H Fitness Studio?
Yes. The cost of a personal trainer is not included in your H2H Fitness Studio membership. PTs charge different rates based on their experience and expertise. Talk to your PT to consider pricing.